We have now added a new option in the ongoing fight against unwanted spam.  As of early this morning, all RackCorp mail servers in Australia, US, and Canada have been updated to RackCorpMailServices-1.14.  In doing do, we have now included a new option in our online portal to help manage spam.
You can find the option here when managing accounts (and similarly for managing aliases):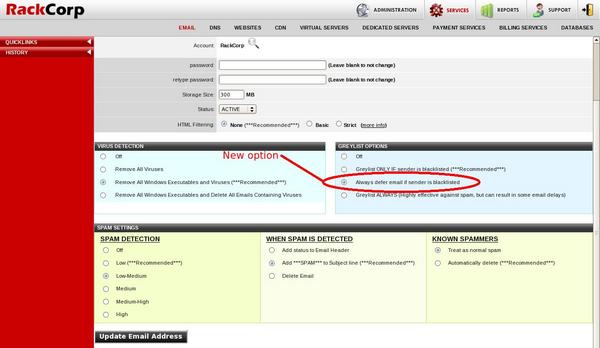 With this option, you can now effectively defer ALL inbound email that matches the realtime blacklists.  Up until now, you only were able to greylist (defer for 10 minutes) any inbound email matching these blacklists.  By permanently deferring the email, you ensure that you do NOT receive any email that is coming from a blacklisted source, AND that the sender will eventually receive notification that you did not receive that email (explaining that it is because they are blacklisted).
It's not all good though – the downside to doing this is that if someone IS blacklisted and is sending you something urgent, then they might not find out about it for several days.  Exactly how long until they do find out varies between 4 hours and 10 days, and is dependent on the sender's ISP / mail infrastructure (not ours!).
When do we recommend using this option?  If you're receiving so much spam that you're finding it hard to do business, then activate this option – it'll help a lot.